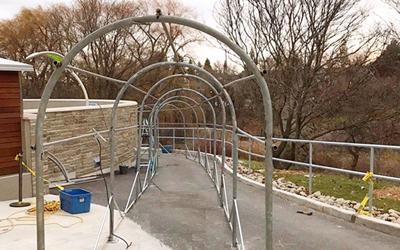 Rigid Welding Inc. is a privately owned Canadian company offering a spectrum of welding and custom fabrication services to commercial and industrial clients. Whether you want a pipe fitting or metal welding in Brampton, our expert welders have got you covered. We are skilled and qualified in dealing with all sort of metal and machinery repairs, no matter what size or material it is made up of.
No matter, which metal or material you want to get welded, we have almost every equipment to serve your needs. Right from the raw metal to pipes and vessels, we know how to weld them all.
Our Expertise
Custom Metal Fabrication
We are capable of providing metal fabrication in Brampton along with welding services to ensure durable products in the long run.
Pipe Welding & Fitting
We are known for manufacturing, supplying, and installing a variety of industrial piping and fittings that can withstand high pressure.
On-site Welding
Our team of certified welders specializes in providing on-site mobile welding and fabrication services to assist you wherever you are.
Pressure vessels
With years of industry experience, we can handle any type of pressure vessel installation, welding, fabrication, or alteration project.
Mechanical Piping
We know what it takes to deliver an efficient and long lasting welding and fitting service for industrial or mechanical pipes.